21st March, 2012
This news is on the wires today – makes me inordinately proud of the show.
The irascible doctor has made friends for me all over the world, so he will always have a special place in my heart.
I do think the Doc would approve of a Russian analogue – he'd understand the very Tolstoyian idea of civilisation as a web of lies constructed to distract people from the reality of sickness and mortality.
I don't know what the Russian take on the show will be, but here's my casting suggestion, half-way between Clunes and Putin.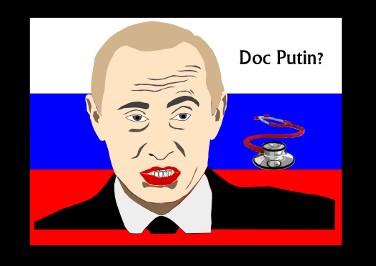 Doc Martin to be remade in Russia

20 March, 2012 | By Michael Rosser

ITV1 drama Doc Martin is set to be adapted for audiences in Russia – part of a raft of new deals by distributor DRG.

The format of the popular drama has been optioned by Russia's Albany Productions, an affiliate of Sony Pictures Entertainment.

It will not be the first time the UK drama, starring Martin Clunes, has been remade.

Major broadcasters including Spain's Antena3, Germany's ZDF and Greece's Mega TV have each put their own spin on the show, in which a curmudgeonly big city surgeon moves to a small village and takes up residence as the local doctor.

Most recently, DRG has secured a third season format deal in France with Ego Productions for TF1 and has picked up the rights to the sixth series from the UK.

The British version, made by Buffalo Pictures in association with Homerun Productions, has been sold into more than 200 territories.

DRG has also signed several new finished programme deals with:

TV One (New Zealand)
Kanal Fem (Sweden)
TV2 (Denmark)
Vision TV (Canada)
TV Norge (Norway)

It is also syndicated via APT to 46 PBS markets in the US – including 19 of the top 20 markets.